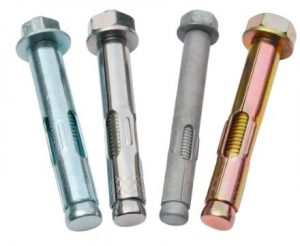 M6-M24 Fastener sleeve anchor Expansion Anchor Bolt
Carbon steel zinc plated anchor of  wedge anchor expansion anchor drop in anchor  Sleeve Anchor (M6-M24) 
Anchor bolt are available in a wide range of sizes - from M6-M24, with lengths up to 200mm. Concrete Fasteners carries anchors bolt in zinc plated carbon steel and stainless steel. Concrete anchors provide 360° of hole contact over large areas and greatly reduce concrete stress that can cause wear and tear over time. Available in four head styles - hex, flat, acorn and round - and able to be used in solid concrete, brick and block base material, the concrete anchor boltwill meet the needs of numerous project requirements.  
HAIYAN BOLT provide both carbon/alloy steel, and stainless steel Sleeve anchor.
Size: from M6 to M24
Surface: zinc plated white or yellow, plain polished.