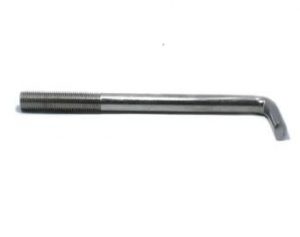 Foundation bolt is also called Bent anchor bolts which are embedded in concrete and used to support structural steel columns, light poles, highway sign structures, bridge rail, equipment, and many other applications. The bent portion, or "leg", of the anchor bolt serves to create resistance so that the bolt does not pull out of the concrete foundation when force is applied. Due to the bent shape, foundation bolt also be named after L type bolt, J type bolt,Eye type bolt.
Haiyan Bolt provide all the different types of foundation anchor bolt.
Brand name: HB
Standard: OEM, mostly customized.
Size: from 1/2" to 1-1/4", M12 to M30.
Material: from carbon steel to stainless steel.
Grade: A307A, GR5. 4.8 and 8.8
Surface finish: plain with oil, black oxide, zinc plated, HDG.
Supply ability per month: 200tons.
Packing: bulk in wooden case or plywood pallet.