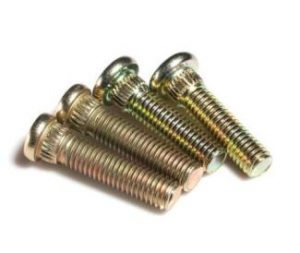 Knurled bolt, is also called wheel bolt or truck bolt which is mostly used in the automotive spare parts, therefore, it should be bears high tensile strength for the safety use.
Haiyan bolt produce mostly in 8.8 and 10.9 grade of this knurled bolt.
Description of knurled bolt:
Brand name: HB(HAIYAN BOLT)
Standard: ASME B18.5, OEM, Customized
Size: 12mm to 16mm, 1/2" to 5/8"
Length: open to customer request.
Surface finish: zinc plated white or yellow, black oxide.
Grade: 8.8 and 10.9, GR 5 and 8.
Material: Medium carbon steel and alloy steel.
Supply ability: 60 tons per month.