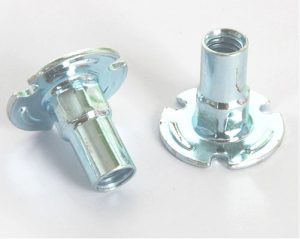 Pallet nut is a kind of fastener specially designed for wooden application. The main material is carbon steel, thin head design, internal thread connection increases the connection and diversity. Compared with the standard nut, it has a wide range of applications and can be used on a variety of material surfaces. Suitable for use with carriage bolt,wall bolts, beveled flange edge to prevent loosening.
1,Standard:open to customized
2,Thread:UNC
3,Material: low carbon steel
4,SAE Class:4.8,gr2
5,Metric Size:M8 M10 M12
Inch size: 1/4",5/16",3/8",1/2"
6,Surface finish:mostly in the zinc plated white or yellow, or black oxide.
7,Packing:20-25kg Carton+Pallet   (bulk packing OR small box packing)