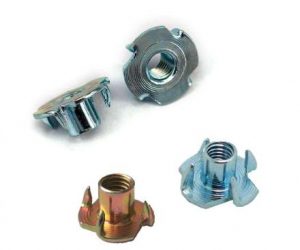 CLAW NUT, TEE CLAW NUT, FOUR CLAW NUT
The counter claw nut is a kind of fastener which plays a connecting role. Its main material is carbon steel and stainless steel. Compared with the standard T-nut, the nut can provide strong fastening force. This kind of counter claw nut can be installed automatically by T-type nut automatic nailing machine, which reduces labor and rework cost.
1,Standard: DIN1624, ASME,and length is open to customized
2,Thread: metric system
3,Material: low carbon steel, A2 stainless steel.
4,SAE Class:4.8,gr2
5,Metric Size:M5 M6 M8 M10 M12
Inch size: 1/4",5/16",3/8",1/2"
6,Surface finish:mostly in the zinc plated white or yellow, plain polished.
7,Packing:20-25kg Carton+Pallet   (bulk packing OR small box packing)