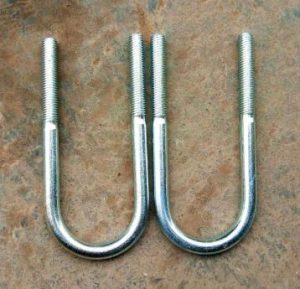 U-bolt, or riding bolt, is a non-standard part. It is named after the shape of U-bolt. The two ends have threads which can be combined with nuts. It is mainly used to fix tubular objects such as water pipes or sheet objects such as leaf springs of automobiles. Because the way of fixing objects is like people riding on horses, it is called riding bolt.
U-shape bolt is generally used in the truck, which is used to stabilize the chassis and frame of the car. For example, leaf spring is connected by U-bolt.
U-bolts are widely used, mainly for building installation, mechanical parts connection, vehicle and ship, bridge, tunnel and railway, etc.
HAIYAN BOLT produce both carbon steel and stainless U bolt.
Product Description:
Standard: OEM,customized.
GRADE: 307A, A2-304,A4-316
Material: carbon steel, alloy steel,stainless steel.
Size:from 1/4" to 1", from 6mm to 24mm.
Surface finish:zinc plated, plain, black oxide, HDG
Packing: cartons with plywood pallet
Supply ability: 100tons per month
Assembly: normally with hex nuts and flat washers