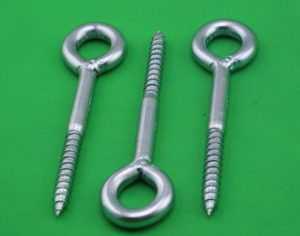 HAIYAN BOLT produce both carbon steel with or without welding, and stainless Eye bolt.
Product Description:
Standard: OEM,customized.
GRADE: 307A, A2-304,A4-316
Material: carbon steel, alloy steel,stainless steel.
Size:from 1/4" to 1", from 6mm to 24mm.
Surface finish:zinc plated, plain, black oxide, HDG
Packing: cartons with plywood pallet
Supply ability: 100tons per month
Learning more about  eye bolt:
The eye bolt also called lifting ring bolt which forged as a whole, normalized and oxide skin removed; the forgings are free of over-burning and crack defects; the lifting ring screws are uniformly hardness tested, and the hardness value is HRB67-95. The strength of force crown lifting ring screw is 12. 9.
The eyebolt must be installed vertically on the workpiece plane, and the joint surface shall be flat and tight. It must be adjusted to the stretching direction, and the screw shall not contact with sharp edge objects.
Eye bolts are widely used in port, electric power, steel, shipbuilding, petrochemical, mining, railway, construction, metallurgical chemical industry, automobile manufacturing, plastic machinery, industrial control, highway, bulk transportation, pipeline auxiliary equipment, slope tunnel, shaft governance and protection, marine rescue, marine engineering, airport construction, bridge, aviation, aerospace, venues and other important industries and bases Mechanical equipment for infrastructure projects.