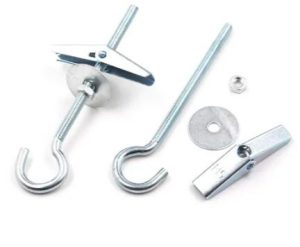 TOGGLE ANCHOR
Cavity Fixings Spring Anchor Toggle Bolt Butterfly Toggle Anchor With O Hook
Products Details
1.Can be used for hollow substrates such as hollow bricks, gypsum boards, cement fiber boards, and wooden boards;
2.Suitable for installing light loads such as lamps, curtain rods, photo frames, coat racks, power switches, etc .;
3. Folding the expansion arm can be plugged into the hole, without the need to unscrew the screws, easy installation;
4. The expansion arm automatically spreads out behind the hollow substrate, forming a large radius and large area of contact, providing a reliable anchoring effect;
5. Can be used in a wide range of thickness of hollow walls and installation parts, providing reliable anchoring effect;
6. It can be installed with an ordinary Phillips screwdriver, which is convenient and quick.
SIZE:M4,M5,M6,M8,M10,1/8,5/32,3/16,1/4,5/16,3/8
Material:Aluminum (5050,5154)/ steel/ stainless steel
Surface finish:Baking finish, Zinc plating, Nickel plating, Dacromet