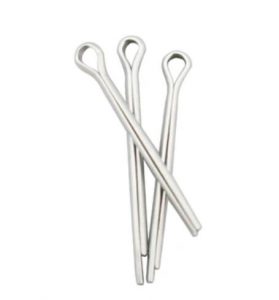 ANSI Standard Galvanized Steel Split Pins
Also called as Cotter pins, split cotter pins. Made of spring steels, brass or stainless steel.
Generally used with clevis pins, slotted nut, bore, shaft, wheel and other device for locking purpose.
Metric size and inch size available, regular sizes in stock sales
1/16"X1"
3/32"X1"
3/32X1-1/2"
1/8"X1-1/4"
1/8"X2"
5/32"X2-2-1/2"
Stanard DIN94, ISO1234
ASME/ANSI B 18.8.1 1983
QS500
BS 1574-1994
UNI 1336
NF E 25-774-1997
GB/T 91-2000
ANSI/ASME/GB/JIS or customized
Material could be SAE1070, 65Mn Spring Steel, Stainless Steel
AISI 304, SUS316, SS201
All Cotter pins, split pins, R type lock pin, used to lock other components of sharf,
Bore, sollted nut, clevis pins, etc
Surface: Galvanized, color-zinc plated, nickel, chrome, black oxide
Split pins (Cotter pins) are commonly used for securing wheels and cowls etc.