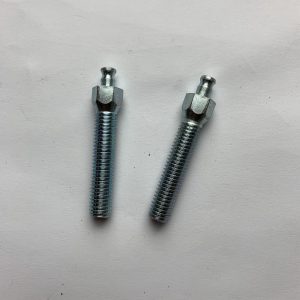 size M10 Length 60mm with special lathed head using in the furniture application.
carbon steel made with machine thread.
From cold headed processing, hot forging processing, until to lathe turning fine work, HAIYAN BOLT offer the customer most superior service of customized fabrication for different kinds and shape of bolts.
We can deal with the material from low carbon steel to stainless steel.
Material Range: Q195,A36,A307,GR2,5,8,10,4.8/5.8/8.8/10.9/12.9
A2/A4.
Size Range: From 5mm to 50mm diameter.
Length Range: From 20mm to 2000mm.
Surface finish covers zinc plated white or yellow, nickel, HDG, mech galv, dacromet, polish, passivate.