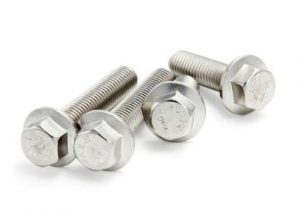 HAIYAN BOLT produce both carbon steel and stainless Hex flange bolt.
Product Description:
Standard: DIN6921, ANSI/ASME B18.2.1
GRADE: 4.8 to 12.9,Gr 2 to Gr 10, A2-304,A4-316
Material: carbon steel, alloy steel,stainless steel.
Size:from 1/4" to 1", from 6mm to 30mm.
Surface finish:zinc plated, plain, black oxide, HDG,mech galv, decromet
Packing: cartons with plywood pallet
Supply ability: 200tons per month
Learning more about the flange bolt:
Hexagon head type: one is flat head, the other is concave head.
Surface color category: according to different needs, there arezinc plated yellow orwhite, military green, yellow, corrosion-resistant Decromet on the surface.
Flange plate type: according to the use position of flange bolts, the size requirements of the plate are different. There are also flat bottomed and toothed parts. The toothed part plays an anti-skid role.
According to the stress mode of the connection, there are common and reamed holes. The flange bolts used for reaming holes shall match with the size of the holes, and they shall be used for transverse force.
In addition, in order to meet the needs of locking after installation, if there are holes in the rod, these holes can prevent the bolt from loosening when it is subject to vibration
Some flange bolts without thread are called thin rod flange bolts. This kind of flange bolt is good for variable force connection.