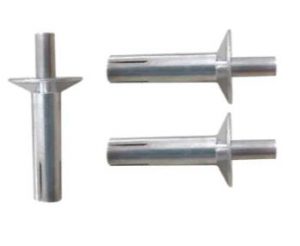 CSK Head Aluminum Hammer Drive Rivets
SIZE:3.2/4.0/4.8/6.4/7.9/9.5mm
Length: 4-30mm
Head type:Dome head, CSK head, large flange head, etc.
Material:Aluminum (5050,5154)/ steel/ stainless steel
Surface:Baking finish, Zinc plating, Nickel plating, Dacromet
All Drive Rivets are just as easy to install, regardless of size or style - just insert in hole and drive pin flush to top of rivet with hammer or pneumatic tool. Pin forces prongs of rivet to flare out below or within fastened materials, creating a strong grip. Leaves a clean non-snagging head when fully installed.
Aluminum Alloy Countersunk CSK Hammer Drive Rivets are installed with a single blow from a hammer, making for very fast assembly of metal to concrete, stone of other similar materials. Ideal where fast, permanent and vandal resistant assembly is required.