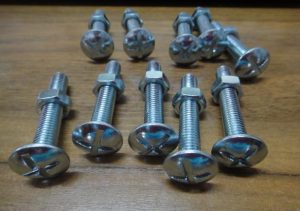 HAIYAN BOLT produce this roofing bolt in carbon steel mostly.
Product Description:
Standard: French standard nfe25129,OEM,Customized
GRADE: A307 GRA or 4.8
Material: carbon steel.
Size:from 1/4" to 3/8", from 6mm to 10mm.
Surface finish:zinc plated mostly
Packing: cartons with plywood pallet
Supply ability: 100tons per month
Roofing bolt is also called large flat head eleven slot machine screw. Because the head shape is like the roof, it is also called roof bolt. The use standard is generally French standard nfe25129, which is mainly used in wood structure and building decoration industry. It is generally used together with hex nut and square nut.
Drawing details of the roofing bolt as followed: